Lucify conducted an interview with Sarah Aimée Alaoui, one of the organizers of the "Fashion Revolution" in Bern. The Action Week is an exchange platform for activists, volunteers, conscious consumers, slow-fashion designers and eco-friendly labels.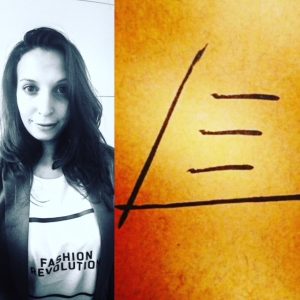 Could you please tell us more about yourself explaining how you joined the fashion industry?
My name is Salma, I was born in Berne and I also have Moroccan roots. It has always been my dream to become a fashion designer, since I was 4 years old. Since I can actually think. And now – at the age of 32 – I finally joined the fashion industry. When I was studying fashion at the Swiss Textile School in Zürich, I realized that the conventional fashion industry is not my world. Meanwhile, I am happy in the IT, I spent 9 years working in this sector. I am still very interested in the incredible opportunities and technical possibilities of the IT and I will continue advancing in this area in the future. In the meantime, the whole movement of sustainable and fair fashion finally developed. In my spare time I completed further education courses in this specific field as well as in product development and did a lot of research. Since several years, consumers are also interested in sustainable fashion and want to have more choice. That is when I realized: now is the chance, now I have to get started and try to release my own sustainable collection.
Your startup is called "Terrebelle" – what kind of symbolic meaning is behind such a name?
«Terrebelle» comes from the term «Enfant terrible», a worldwide known expression. I also believe in the English language. But the expression has a French origin. "Enfant terrible" does not necessarily refer to a geek, it is a term for those who do everything differently. Those who make change, bohemians, artists, rebels, people who are creative in their efforts to make good moves. It is about a person who provocatively transgresses existing conventions, often even shocks the others, but can also be admired as a daredevil, who is trying new things and enhances progress. That is where ending – «Rebelle» – comes from. At the same time, «Terrebelle» also includes «Terre Belle», which means «beautiful Earth» in French and represents well the sustainable aspects of the label.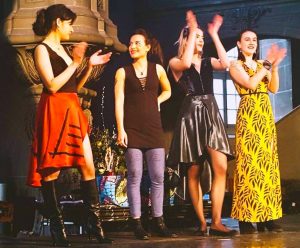 What are the concrete sustainable steps that "Terrebelle" makes?
I try to make the whole supply chain sustainable from the beginning to the end. It starts with the design: some models will have a "zero waste" design. This means that the pattern is designed in such a way that there are no scraps during the cutting. When designing it is also important to remember whether the required materials (zippers, buttons, insoles, cords, etc.) are sustainable and adequate enough. When purchasing materials, I attach a great value to the fact that all components of the piece of clothing are sustainable. I will buy,  when it is possible,  only certified raw materials. However, my label itself will not be certified at the beginning because it is rather costly.
Another important point in the supply chain is the geographic location of the producers and fairness with regards to employees' working conditions. Above all, I will work with factories in Europe to reduce transportation of materials and clothing to the minimum. It will also allow me to visit the factories myself without causing a huge carbon footprint. On site, I want to make sure thatt the workers are doing really well and the factory genuinely complies with all the processes of certification. These are the main points.
As far as sustainable lifestyle and ecology are concerned: what is your opinion about the climate strike?
Since a long time I have wished for movement like climate strike to appear. It would have been necessary already at the time when I was a schoolgirl, but there were not many people aware of it back then. I fully support the students' strikes. They should hit the streets every Friday, most likely they will learn more there than at the school. For example social competences, environmental protection and how to make things in this world move together. We, the older generations, should also support it, sometimes strike the work, because it is no longer 5 to 12, but … Well, I'm not a scientist. Experts should tell us how much time we have left to change what awaits to all of us. We must absolutely support the youth.
So, I am a big fan of the movement, but I also hope that the participants of these strikes really try to live sustainably. Striking alone does not change anything; every individual has to adjust her or his lifestyle and consumption patterns, to genuinely make a difference and to be aware that with the every purchase the choice for the future is made.
You are a City Coordinator of the "Fashion Revolution Week", which takes place in Bern end of April. What sets this event apart from traditional fashion shows?
The "Fashion Revolution" is not just a fashion show, it is a movement that has existed since the Rana Plaza disaster in Bangladesh (April 24, 2013). At that date nine-floor building  housing five textile factories collapsed. 1135 people were killed and 2438 injured. The movement originated in London.
Since four years it is a big happening in Zurich and this year it will take place many other cities. After several independent actions in the FRW in Bern in recent years, for the first time in 2019 it will take place in a larger scale.
The Fashion Revolution is committed to improving working conditions in the industry, as the consequece of the "Bangladesh Accord". An agreement on fire safety and building security in Bangladesh, reviewed and defined by the factories, relates to the occupational safety action plans. Unfortunately, it is precarious at the moment.
The Fashion Revolution Week itself is there to educate consumers about the inhuman conditions in the industry and to inform about alternatives available for fair and sustainable shopping, to provide possibilities to even repair clothes, learn upcycling: "How can I make the old jeans look nice again so that I can wear them further?»
We have very different events. On Tuesday, for example, there is an expert market where you can talk to savvy professionals, ask questions or obtain the general information. On Wednesdays we will be showing "The True Cost", a controversial documentary about the backstage of the fashion industry followed by a podium discussion. A vernissage opening the week-long photo exhibition, clothing-swap and various workshops will take place on Thursday. A Zero-Waste Design Workshop, an embroidery workshop are all evening long together with the "Capsule Wardrobe" workshop. "Capsule Wardrobe" means a minimalist wardrobe with a few garments that can be well-combinedin order to depart from the mass consumption. It will be possible to identify which core garments are essential to keep the wardrobe up-to-date and wear those pieces in a nice way.
On Fridays there will be a talk in "The New New Bern", the new second-hand shop of Greis and Manillio. They will be having a discusssion with Jamil Mokthar (from the Fashion Revolution Switzerland). Jamil is organizing the Fashion Revolution Week Bern together with me. Afterwards the Fashion Performance and Party will take place in the City Pub Bern. This event will last till late night. It will celebrate Bernese labels, which are committed to the sustainable and fair production of fashion, are celebrated, and Bernese late night party crowd.
We would like to spotlight the positivity changes that our society is recently going through. We do not just want to focus on the negative aspects.
On Saturday the Fair Fashion Pop-Up-Market with sustainable Bernese labels will be arranged in the City Pub. At the same time in the innovative sewing atelier IDM in Thun – at the Textile Technical School – an upcycling workshop will take place. It is led by Andrea Gerber. The sewing atelier IDM has a trend-setting concept and implements sustainable productions for Swiss labels.
In the atelier "Viktoria", various workshops can be visited the whole week through. So, you can give a new life to your own wardrobe!
The movement has grown incredible. We have many active people who participate and who are interested. We are excited! It is truely unbelievable how big the event became and how much support we receive. We hope to have many visitors.